Rental List
Looking to rent a home or commercial property? Here is a list of rental properties currently available. Feel free to call (775) 482-3052 or e-mail directly to our rental desk at rippierealty500@frontiernet.net with any questions about a property. If you don't see what you need here, please drop us a line to see what might be available in the near future. Housing is beginning to open up in Tonopah at this time and we do have several rentals available which are not listed here. Please note that all rentals require a security deposit, there is no last month's rent deposit required. Pets require additional deposits as a rule - sorry, but the few have spoiled it for the many. Liability insurance carriers all forbid Dobermans, Pit Bulls, Akitas and other known viscious breeds of dogs on the properties at any time, no exceptions.
Move in costs are simple, rent is always due on the first of each month, so your rent is pro-rated from move-in day to the end of the month, plus security and pet deposits (if any). That's it!
A $75 non-refundable application fee is due with your completed application: We DO perform a credit, bad check, skip and eviction check on all applicants. Corporations seeking employee housing or commercial space need only tender a completed application and their D and B rating information.
Please, if units listed are not yet vacant, don't disturb the tenants. We'll be glad to show once it's vacant and cleaned.
TONOPAH RESIDENTIAL RENTALS:
463 Valley View: 2 Bedroom, 1 Bath manufactured home, $400/mo

3507 Seibert Mountain Crt: 3 bedroom, 2 bath. with fenced back yard, garage and wood burning stove. $700/mo
600 Air Force Rd: 3 bedroom, 2 bath manufactured home with a wood stove & fireplace. This spacious home has a fantastic view to the north of town, two outbuildings; one with a woood stove inside, a fully fenced yard with a separately fenced area. $800/mo

3213 Golden Mountain Ln: 4 bedroom 2 bath manufactured home. This house has a very large master bedroom with a walk in closet and built in vanity. A wood burning stove will help keep the winter chill away. Newer double wall convection oven and cook top complete the kitchen that has recently been renovated with new appliances and flooring. Also has a fenced yard, carport and garage. $800/mo

3211 Golden Mountain Ln. 3 bedroom 2 bath manufactured home. Has oil burning stove and garage. Available 10/1/17 $750/mo
1204/303 Arizona St. 2 Bed 1 bath stick built home. This home has a spacious yard with exposed beam ceilings, cozy and a new vent free heater makes this easy to heat in the winter.

Coming soon: These are houses which we anticipate will be available soon hopefully within a month, after repairs are done. If no date is listed then we do not have an exact date for availability.
608 Central 2 Bedroom 1 bath older home. $500/mo. Will be ready once new carpet is installed.

310 Utah #1 newly renovated just like unit #2 above, still some light repairs to be done, ETA on this unit is roughly 10/1/17

Out of Town Residential Rentals:
Goldfield: 2 bed 1 bath Single wide house, in good condition includes two storage sheds, with central AC. $450/mo

COMMERCIAL PROPERTIES: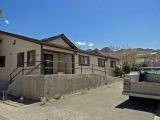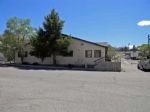 3,300 square foot office building, easily visible from Main Street (US95) with plenty of parking space. Inside are four smaller offices (three with windows), one large office that opens onto a private pation and two large areas for meeting space, cubicles or even retail space. Two ADA compliant restrooms, a storeroom, mechanical room and break room. The building is wired for alarm systems, internet and high speed LAN, as it once housed the local phone company offices, it is very well connected. The property is listed for sale as well, see our featured listings page for details and more photos please.
Available for net lease at only $1,500 per month. Located at 575 St. Patrick Street, off of Tonopah Avenue.
If you own a rental unit and are tired of the hassles of being a landlord, why not sign up your home or commercial property with us? We do it all for you: Advertising, tenant screening, inspections, collections and maintenance dispatching for one low fee each month of occupancy. You sit back and collect your net proceeds by the 15th of each month.
-Rent does not include utilities unless otherwise noted.
0 matching properties were found!